SK Innovation pushing ahead with battery cell expansion in Georgia
​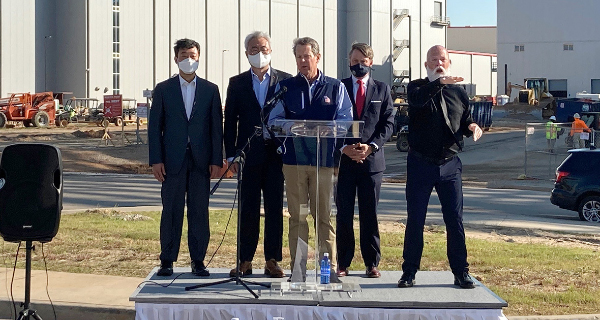 Georgia Governor Brian Kemp (third from left) delivers a speech during his visit to SK Innovation's
EV battery plant in Commerce City, Jackson County, on April 19th. [Photo by SK Innovation Co.]
South Korea's SK Innovation Co. released from industrial theft and patent disputes reiterated commitment to expansion in EV battery capacity in Georgia to complete $5 billion project by 2025.

"We expect up to 6,000 jobs to be created (in Georgia) by 2025 once the construction of the second stage factories (third and fourth factories) is completed," Kim Jun, chief executive of SK Innovation, told reporters on Tuesday as he dropped by the company's Georgia facility where the first plant of 9.8 gigawatt/hour (GWh) is in activity and the second (11.7GWh) one under construction each devoted to power EVs of Volkswagen and Ford.

Kim has resided in the United States to lobby for a presidential reprieve to a 10-year ban that could have destabilized its Georgia project, where near $3 billion has already been budgeted.


A presidential pardon and ban was avoided after SK Innovation reached $1.8 billion settlement with LG Energy Solution last Sunday in compensation for infringing on the frontrunner's technologies following the ruling of the U.S. International Trade Commission.​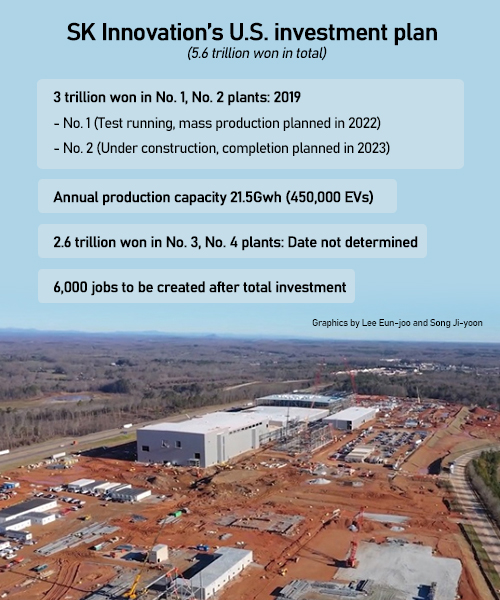 Kim's mention of expansion suggests the battery maker is close to entering new order or joint venture with a U.S.-based automaker as LG Energy Solution has done with General Motors to ride on the U.S. government and corporate campaign to turn all-electric for mobility.

The state of Georgia has already promised free sites for additional plants. Ford could be a candidate for JV partnership, industry sources projected.

LG Energy Solution over the weekend announced Ultium Cells, its 50:50 joint venture with GM, will build a second battery cell plant in Tennessee at $2.3 billion to secure more than 35GWh production capacity by the first half of 2024. About 1,300 jobs will be created. The batteries will be supplied to GM for its next-generation EVs.


SK Innovation, a latecomer in EV battery, has invested heavily in Europe and China to catch up with its bigger rivals LG and Samsung SDI.
By Won Ho-sup and Lee Eun-joo
​Source: https://pulsenews.co.kr/view.php?year=2021&no=383178
​
​