Top experts to share insights at Korea Times Global ESG Forum
-Event will be live-streamed through daily's official YouTube channel -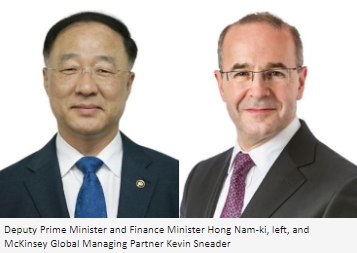 By Park Jae-hyuk - The Korea Times will host a global ESG forum, "ESG, strategy for survival," at the Korea Chamber of Commerce and Industry (KCCI) building in Seoul, Thursday, from 9 a.m. to 12 p.m.
Although it is widely known that environmental, social and corporate governance (ESG) factors are having a significant impact on the global movement of money, Korean companies are still considered to be in the early stages with their ESG efforts, compared to their foreign peers.
Domestic businesses have therefore been advised to learn about the latest perspectives of global investors not only for their international reputation, but for their very survival.
The event, designed to highlight the importance of ESG and help Korean companies fulfill their pledges toward this new paradigm, has been jointly planned with global consulting firm McKinsey & Company in cooperation with the Ministry of Economy and Finance.
Deputy Prime Minister and Finance Minister Hong Nam-ki will deliver an opening speech on the Korean government's ESG strategies for sustainable growth, followed by McKinsey Global Managing Partner Kevin Sneader, who will speak on why focusing on ESG is not only the right thing to do, but also the smart thing to do in the post-COVID-19 world.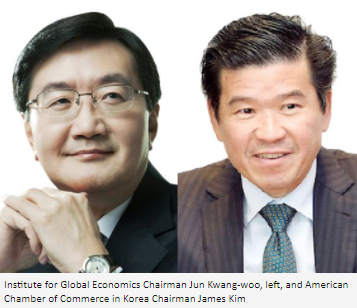 Two panel discussions ― Session 1 on the "Post-COVID agenda for the financial industry: ESG management and investing" and Session 2 on "ESG becomes the new normal in the business world" ― will be conducted via a hybrid online-offline format, moderated by Institute for Global Economics Chairman Jun Kwang-woo and American Chamber of Commerce in Korea Chairman James Kim.
The panelists will include chief executives from ESG powerhouses and global experts.

KB Financial Group Chairman Yoon Jong-kyoo, the head of the nation's leading banking group in terms of sustainability and profitability, will share his ideas about ESG for the financial industry. National Pension Service Chairman Kim Yong-jin will introduce the world's third-largest state pension fund's latest strategies for socially responsible investments.
Carlyle Global Head of Impact Megan Starr will speak on how the COVID-19 pandemic has prompted the private equity firm and other global investors to prioritize ESG. MSCI APAC ESG Client Coverage Head Chitra Hepburn will share the leading ESG index provider's efforts to implement practices and policies that are most meaningful to its clients, shareholders and employees.
BNP Paribas Asset Management APAC CEO Steven Billiet will express his view on the Korean financial authorities' ESG policies and talk about the French firm's focus on energy transition, the environment and equality.

KCCI Executive Vice Chairman Woo Tae-hee will discuss ways to help small- and medium-sized enterprises reinforce their ESG management practices. BlackRock Investment Stewardship Team Director Won Shin-bo will argue that stronger ESG management is the new normal, as a representative from the world's largest asset management firm that is leading this global trend.
IKEA Korea CEO and Chief Sustainability Officer Fredrik Johansson will emphasize the necessity of working together with various stakeholders to tackle the challenges of unsustainable consumption, climate change and growing inequality. P&G Korea CEO Balaka Niyazee will present the consumer goods company's programs to enhance gender diversity, so that Korea can make more efforts for women, who are facing heightened inequality both at work and at home after the pandemic.
Between the two panel discussions, McKinsey Korea Senior Partner Richard Lee will deliver a special lecture on global best practices in ESG investments. Statista ESG Partner Thomas Clark will also deliver an opening speech for the event.
Audience and guests in the forum will include top executives from major Korean financial groups, conglomerates, and foreign businesses and ambassadors from various countries. To abide by government quarantine rules, a minimum number of speakers and guests will participate in person and foreign speakers will join the forum virtually.
The Korea Times will live-stream the forum via its official YouTube channel (https://youtu.be/ccEFK4qRtGQ) for those who did not receive invitations, or pre-purchased tickets.
Source: https://www.koreatimes.co.kr/www/biz/2021/06/602_310034.html​