AMCHAM forum discusses generative AI and its impacts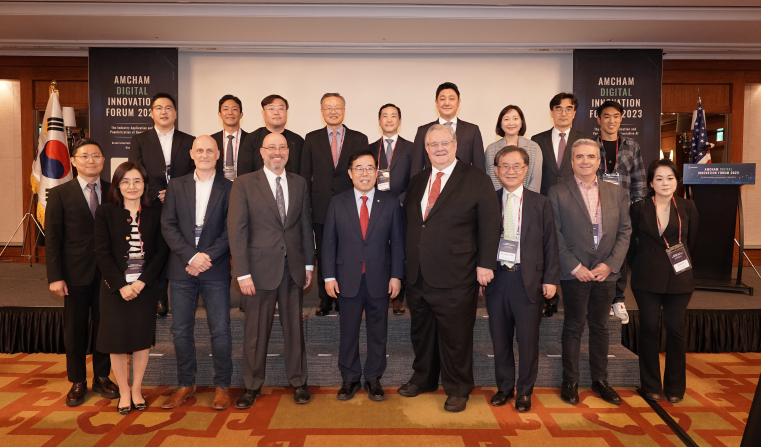 By No Kyung-min, The Korea Herald
- The American Chamber of Commerce in Korea held a digital innovation forum on Monday, aiming to foster dialogue and exchange ideas about the rapidly expanding generative artificial intelligence industry with its stakeholders.
The AmCham Digital Innovation Forum 2023, which was held for the second time this year at the Grand InterContinental Parnas, focused on the theme "The Industry Application and Popularization of Generative AI," in response to the recent surge of interest in Microsoft-backed ChatGPT.
With the growing importance of digital transformation in mind, this year's forum mainly centered on the influence of generative AI technology on a wide range of business sectors and the innovative technology of the IT industry that is driving the growth of the digital economy.
The forum was designed not only to examine foreign companies' predicaments when seeking to promote investment and digital growth, but to reflect on key issues and exchange ideas on future prospects with key stakeholders. It also aimed to inspire stakeholders to form policy consensus and discuss strategies for partnerships across academia and players in the public and private sectors.
Chairperson Jeffrey Jones of the Partners for the Future Foundation emphasized in his opening remarks that AI is one of the core technologies catalyzing digital transformation and accelerating corporate growth.
"I am confident that today's event will be a great opportunity for all of us to explore the rapidly evolving landscape and technical capabilities of generative AI," Jones said.
The forum commenced with a special session titled "Gawngju, the hub of AI Convergence Industry," presented by Team Director Oh Kyung-Hwa and Commissioner Kim Jin-cheol of the Gwangju Free Economic Zone Authority.
The event also featured a panel discussion on "The Spread of Generative AI: Industry Application and Policy Proposal," led by Eric Kim, adjunct professor at Hanyang University and the founder and CEO of Datacrunch Global.
The discussion featured Moon Kwang-jin, an associate research fellow at the Center for AI & Social Policy at the Korea Information Society Development Institute, among other seminar speakers.
Source: https://news.koreaherald.com/view.php?ud=20230515000603&md=20230515151524_BL