Delta Air Lines introduces new Korean menu items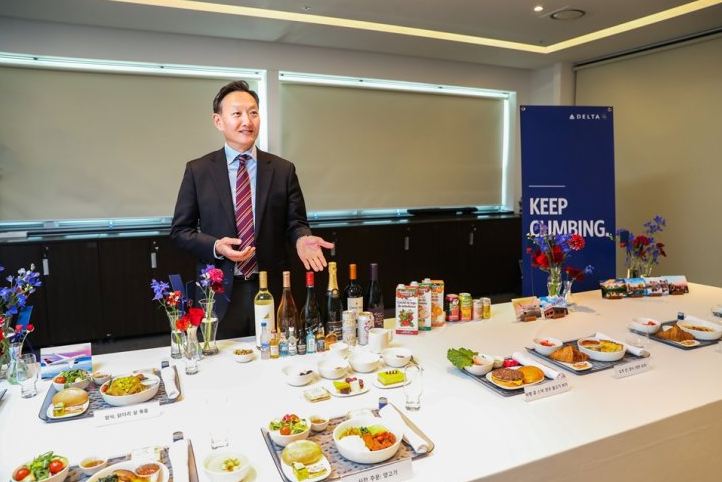 By Lee Hae-rin, The Korea Times​ - Delta Air Lines unveiled nine new in-flight menu items for business class passengers traveling between Korea and the United States during the second quarter.
The menu items include beef tenderloin bibimbap, spicy shrimp and braised spicy chicken with vegetables, developed in collaboration with Korean chefs. The American airline expanded Korean food options back in 2007.
"Korean in-flight meals are popular not only among Korean passengers but also among foreign travelers," said Kim Seong-su, Delta Air Lines' director of sales in Korea and Southeast Asia, underlining the American carrier's intent to continue developing and serving Korean menu items above the clouds.
The airline's Korean menu options aim to make Korean passengers feel at home during their flights, as well as give a positive first impression of Korean culture to first-time travelers and transit passengers of other nationalities.
The bibimbap features rice with minced beef tenderloin and assorted vegetables, including shiitake mushrooms, carrot, spinach, shredded radish, pan-fried zucchini and fried eggs. Sesame oil and Korean gochujang, or red chili paste, were served separately to cater to various preferences.
However, a Delta official said that it has to use a recipe for the in-flight Korean dish that is different from when it is prepared on the ground in order to bring out the same flavors.
Inside an airplane, which stays an average of 10 kilometers above the ground, the air pressure drops while humidity levels plummet to less than 12 percent, which is drier than most deserts. Under such circumstances, the sensitivity of taste buds to sweet and salty foods is reduced by around 30 percent, according to a 2010 study conducted by Germany's Fraunhofer Institute for Building Physics. The study commissioned by German airline Lufthansa shows that sour, bitter and spicy flavors are relatively unaffected.
Since food tastes blander in the air than on the ground, airlines give extra seasoning to in-flight meals to ensure that the food tastes better and select wines that are fruity with low acidity and low tannin, she said.
"We carry out tastings with employees and passengers both on the ground and in the air to ensure the best in taste, quality and nutrition," the official said, adding that the menu is updated every quarter for business class, and twice a year for economy class, to keep up with the seasonal changes.
Apart from the growing popularity of Korean food among foreign passengers, the growing importance of the Korean market is also behind the American airline's efforts to promote Korean cuisine.
In 2018, Delta launched a joint venture ― the strongest form of partnership among airlines where partners coordinate on route planning, ticket booking and share revenue on routes ― with Korean Air.
Through the partnership with Korean Air and Incheon International Airport Corp. (IIAC), Delta and the Korean full-service carrier are connected via 80 destinations in Asia and 290 destinations from the Americas to Asia's leading transit hub airport.
"We say that 'Delta and Korean Air are like a married couple, and their matrimonial home is Incheon airport,'" Kim said regarding the close partnership between the two full-service carriers.
As a result, Delta "reached its highest booking rate for the upcoming summer holiday season and saw a 4.55-times increase in the number of passengers during the first quarter this year (compared to the same period of last year)," Kim said. The airline expects even more passengers to benefit from the U.S. Inflation Reduction Act, which encourages more Korean companies to build factories in the U.S. among other things.
Currently, Delta operates 28 direct flights every week from Korea's Incheon to Atlanta, Seattle, Detroit and Minneapolis every day.
In the joint venture with Korean Air, the airline provides a total of 113 flights weekly to 13 destinations in the U.S., including New York, Washington, D.C., Honolulu, Chicago, Las Vegas and Los Angeles.
Source: https://koreatimes.co.kr/www/culture/2023/05/141_350750.html?utm_source=nans