Hyundai Motor to invest 2 trillion won in Ulsan EV factory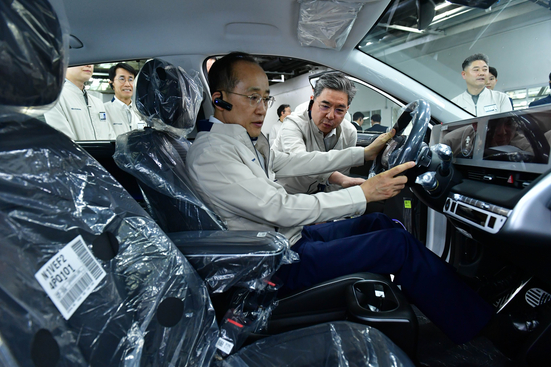 BY SARAH CHEA, Korea JoongAng Daily - Hyundai Motor to invest 2 trillion won in Ulsan EV factory Ground will be broken in the fourth quarter on a 71,000-pyeong (234,710-square-meter) site, with production set to start in the second half of 2025.
Specific details, like the annual production capacity, will be announced later.
The announcement came as Finance Minister Choo Kyung-ho visited the carmaker's Ulsan plant Tuesday. Choo, who attended a briefing at the plant, said that "the all-time high of auto exports have been supporting the country's economy" and promised, "full support in the future mobility sector, including core technologies, like battery performance and self-driving safety." Choo also shared his plan to increase tax incentives for EV manufacturing investment and called for "active investment by the auto industry."
Korea's auto export revenue was $6.52 billion in March, a new high and up 64.1 percent on year, according to the Ministry of Trade, Industry and Energy. The record-high figures came as Korea's exports fell for the sixth consecutive month in March due mainly to weak global demand for semiconductors, with the country suffering a trade deficit for 13 months in a row.
Hyundai Motor, Kia and Hyundai Mobis previously announced that they will pour a combined 24 trillion won into domestic EV production and development by the end of 2030.
Kia in April broke ground on its first EV plant in Hwaseong, Gyeonggi. The 1-trillion-won plant will begin commercial operation in the second half of 2025, with an annual production capacity of 150,000 vehicles. Kia also plans to shift some of its internal combustion engine vehicle facilities to its Gwangmyeong plant in Gyeonggi to EV facilities in the first half.
Hyundai Motor and Kia hope to have a combined 31 electric models available by 2030. Kia recently introduced EV9, its first three-row electric SUV, while Hyundai Motor plans to roll out Ioniq 7 next year. The goal is to ramp up annual domestic EV production from last year's 330,000 units to 1.51 million by 2030, of which 920,000 units will be exported. The 1.51 million figure is about 41 percent of the global EV production target for carmakers by 2030.
The companies together aim to become one of the three largest EV manufacturers in the world.
Source: https://koreajoongangdaily.joins.com/2023/05/09/business/industry/korea-hyundai-ulsan/20230509164828523.html