Stephen Dunbar-Johnson is the President, International of The New York Times Company. He is responsible for the oversight and strategic development of the Times Company's international businesses. He was appointed President, International for the New York Times Company in October 2013 to lead the global expansion of The Company.
He sat down with AMCHAM for the 2021 2Q Journal Special CEO Interview to discuss The Company's key initiatives, its new future in Seoul, and the changing landscape of news media. 
Can you tell us a little about yourself and your journey to your current position?
I am a British/French citizen and have been in the media business for essentially my entire career. I worked for the Financial Times for 12 years before moving to the International Herald Tribune, owned by The New York Times, where I became Publisher, and then of course with The New York Times. All of the positions I have held over the years have involved international growth or expansion, initially in the analogue world and, over the past several years, increasingly in the digital space, as we look to grow our digital subscription base around the world. I have been fortunate enough during my career to travel extensively and have had two long-term stints in New York and Paris, as well as time in London, where I am now based.
Out of all the high-tech, global cities in Asia, why did The New York Times choose to establish a presence in Seoul?
South Korea is an important region for international coverage, and we've had a presence in Seoul for many years. Our current bureau chief Choe Sang-hun has won numerous journalism awards for his reports, including a Pulitzer Prize. He's supported by a team in Seoul, who, this year alone, have examined a breadth of topics like the commercial impact of Chinese patriotism in the K-pop industry, the disappearance of North Korean diplomat Jo Song-gil and the online harassment and privacy implications of COVID-19 linked to the country's test and trace system and quarantine app. We've examined how sectors of the community have grappled with the virus, including families and schools, fitness classes, religion and politics and the impact of COVID-19 on the Chuseok festival.
One of the reasons we're expanding our presence in Seoul is that we know South Korea will continue to be an important geopolitical region, offering us a base from which to cover the Asia-Pacific region with proximity to China, Hong Kong, Taiwan, Japan, and North Korea. Crucially, we'll be relocating our digital news operation from Hong Kong, which is an integral part of our 24/7 digital operation. Our plan is to move that digital team of journalists, roughly one-third of our current Hong Kong staff, to Seoul over the coming year, as well as using this opportunity to recruit talent locally.
In choosing Seoul as our base for expansion, we considered a broad range of lifestyle and economic factors for our move, but ultimately, the culture, schooling, technological advances and quality of life, alongside the courteous and friendly welcome offered by new colleagues and business partners in Korea made for a compelling case.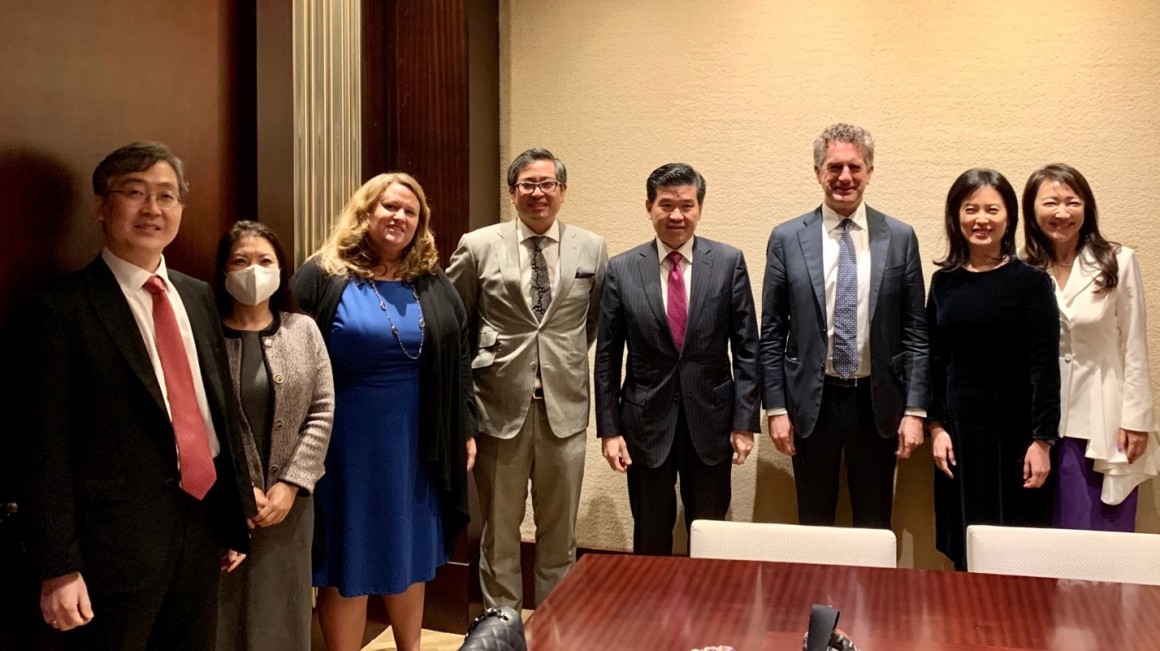 Mr. Dunbar-Johnson meets with AMCHAM in Seoul
What is your vision for The Times in the Korean market? Can you tell us about your target audiences in Korea?
Our ambition at The New York Times is to be the news outlet of choice for curious, English speakers worldwide. To reflect that ambition and confidence, we've set a goal of 10 million global subscribers by 2025, with 20 percent of that total coming from subscribers outside the United States. To help us get there, we're expanding our footprint on the most important issues, in the most important regions for international readers. This includes crucial coverage from and about Korea.
Many readers will be aware of our editorial partnership with the JoongAngDaily, so are already familiar with our particular brand of in-depth, deeply reported journalism, respected by opinion-formers and business leaders across Korea. We're looking forward to welcoming more Korean organizations into our group subscriptions program, which helps leaders and their employees stay informed, strengthening their decision-making with in-depth global context, visual investigations and data analysis from our team of more than 1,700 reporters worldwide.
We hope to expand our readership in Korea to showcase not only our signature investigative reports, the brilliant minds of our opinion writers, or analytical coverage in areas like politics, business and finance, but also encourage a broader base of readers to explore other areas of our report, including our lifestyle, immigration or climate coverage, or to experience our audio and film offerings, such as The Daily podcast.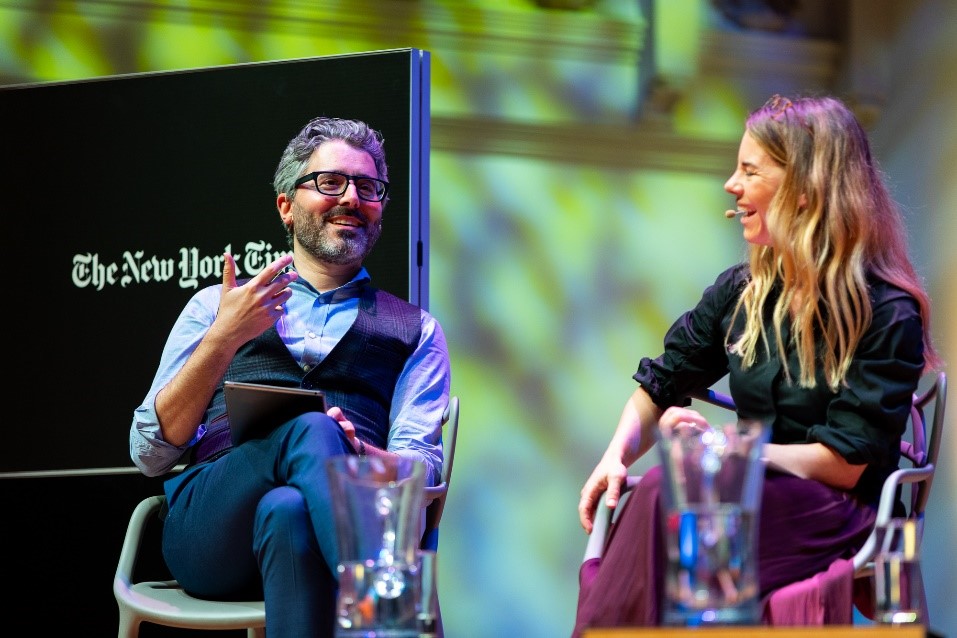 Host of "The Daily" Michael Barbaro joins Times journalists in London for a week-long series on Europe in 2019
We think it's also imperative to build a relationship with our younger audience. We know around 60,000 students from Korea go each year to study in the United States and hope to strengthen relationships with this cohort and foster lifelong readers and subscribers among this audience.
How do you view the media landscape in Korea? How does it compare to other countries around the world?
Much has changed in the past 20 years and the need for independent, courageous, trustworthy journalism has never been greater. South Korea, in some reports, now rises above countries like Australia on the issue of freedom of expression, with significant advances in press freedom over the past decade.
Other indicative metrics, such as the World Press Freedom Index, sees Korea outshine many other regions in Asia including Taiwan, Japan, Hong Kong, India and Singapore with respect to the level of freedom available to journalists. The global confluence of protests, political control of information, internet shutdowns and increased attacks against journalists and human rights defenders means it's more important, now than ever, for our reporters to seek truth and hold power to account, and support our colleagues through this challenging time for democracy and the pursuit of truth.
In terms of the business challenges, I believe that legacy media organizations in South Korea face exactly the same issues as is confronting media companies across the globe, that is to say how to manage print decline and find a model whereby they can monetize online audiences. The paradox for all is that media now by and large reach bigger audiences than ever before, but monetizing that extended reach is not obvious, especially with the social media platforms hoovering up much of the digital advertising pie. At the very least, legacy media organizations in this market should insist that readers wishing to access their content register. It is vital to have an addressable audience that you can communicate with and help understand how you can best serve them. I don't believe there is one model that works for all, and different titles need to find the best route for them, whether it be a premium model, a metered model, a membership model or a combination of these. However, that is far more difficult to figure out if there is no relationship with your reader base, which is why I think asking readers to register to have access to content is table stakes. That is not necessarily a view that all would agree with, but it is my conviction.
How do you work with local partners in Korea?
Two decades ago, as the International Herald Tribune, we sought a partner who would help bring our global newspaper into the homes and offices of a curious, English-speaking audience in Korea. We forged a strong publishing partnership with the Korea JoongAng Daily, as both our publications evolved to remain a critical read for Koreans during a challenging economic and political decade for the world at large.
It was one of the first global-local collaborations between newspapers in Asia. As the Herald Tribune, and later, The New York Times, we provided readers our signature international news while the Korea JoongAng Daily provided the best local coverage from the region. We were confident that this would be a compelling combination, and it continues to prove successful.
In more recent years, we have expanded our news service provision to a variety of publishers in South Korea, including RIDISelect, Ringle and the Seoul Economic Daily. This year we will publish the ninth consecutive Korean language edition of Turning Points magazine with News.
Based on your experience and expertise, is there anything that Korean media companies should do differently?
There's no one-size-fits-all model to guarantee success and longevity in this industry. But we've felt that the key to subscription success has been driven by a few primary factors. The first is the sustained investment in our journalists, enabling them to produce deeply compelling stories across the breadth of our report.
The second is ensuring an engaging digital experience, which means investment in product innovation. Engineering now is the second largest functional area at The New York Times, only behind journalism. We're always looking to bring new readers to the Times, and another important part of our subscription success has been converting our readers to registered users, in order to build an ongoing relationship which sees readers return time and time again to The Times, not just for news, but for inspiration from our At Home section (which launched during the pandemic), for a different perspective from our Styles desk, or advice from our Parenting newsletter or a dinner suggestion from our cooking app. These are all ways in which we help our readers navigate their daily lives.
You've previously shared the three pillars on which your strategy is built: investing in journalism, understanding the customer, and investing in technology. In what ways is The Times building on these pillars? Have you faced any significant challenges or obstacles in pursuing these initiatives?
We're constantly evolving and learning, and a big part of that is understanding our customers in different markets and how they choose to consume Times content. For example, our website in Chinese launched in 2012 and was swiftly blocked in China. However, the appetite for New York Times journalism in Chinese has never been stronger. We launched a dedicated quarterly lifestyle magazine for our Chinese audience. We experiment with local live journalism, and newsletters, such as our Australia Letter.
As I mentioned, we're also very data-driven in the way we look at the customer experience. It can be a challenge to understand the behaviors of anonymous readers on our site, so by asking readers to register we're able to offer relevant news and features, not just based on geography, but drawing from the breadth of our report, such as our sport analysis or film critiques. It's important readers feel a habituation with The Times if they are to subscribe.
Our 2020 Report outlines a lot of the challenges we faced in transitioning to a subscriber-led, digital business fit for the future. We needed to become more comfortable with technology and digital media -- with our photographers, videographers and graphics editors playing the primary role covering some stories, rather than a secondary role, for example. We had to innovate to embrace a digitally native mix of journalistic forms, such as live briefings. But we now produce incredibly thoughtful, nimble live briefings, such as our coronavirus live briefing which we've maintained continuously since January 23 and has involved the contributions of more than 1,100 journalists out of 1,700. We've made enormous strides in audio, visual and service journalism, pivoted our live events business to embrace the opportunities offered by online events, and grown our engineering team significantly. We're a very different company now to the one facing these evolutionary challenges just four years ago.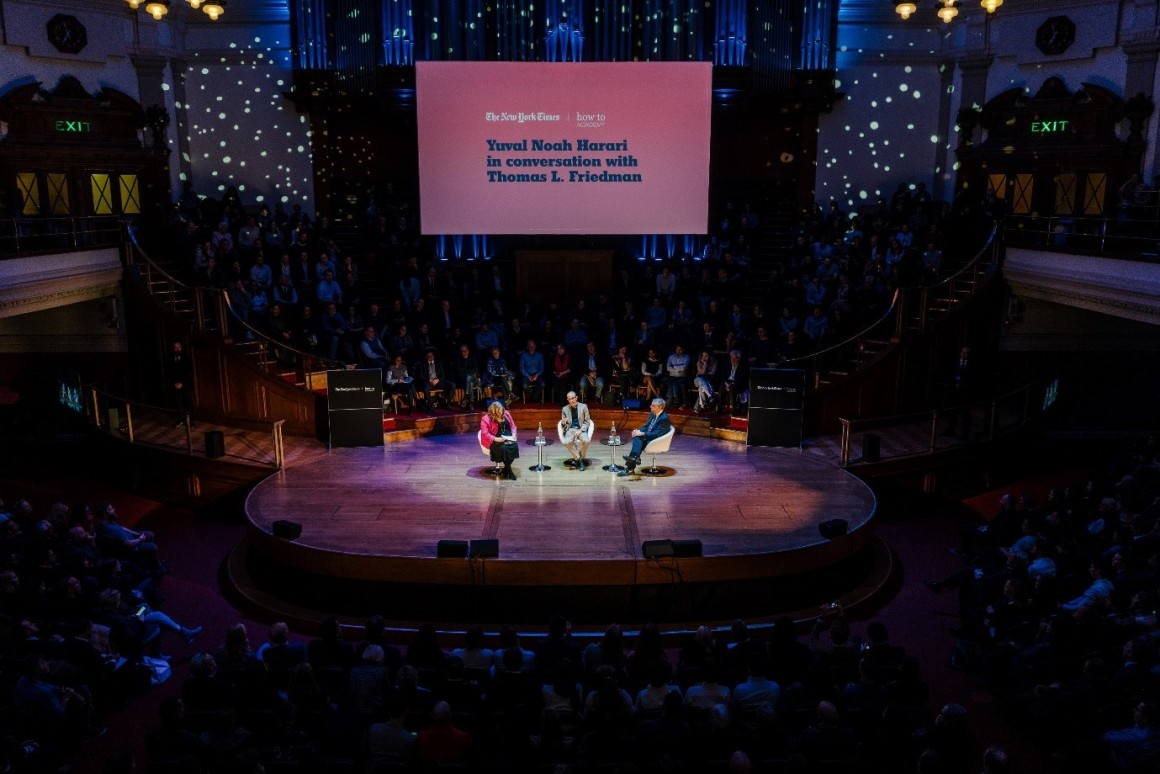 New York Times Op-Ed columnist Thomas Friedman interviews author 
and historian Yuval Noah Harari on stage for a live Times event
In our age of growing polarization in society and politics, how does The Times establish itself as a voice that speaks to everyone?
We take great pride in being a truly independent news organization, with journalists around the world reporting without fear or favor. Journalistically, we're focusing on what sets The Times apart: high-impact journalism, investigative work, visual storytelling, and live breaking news.
Our reporters are truly fearless in holding power to account, and we bring this independent brand of signature Times journalism to our global report. A great example of this is our analysis of the Sewol Ferry disaster, which featured in our "Promises Made" series. The hypothesis of this series was, when things go wrong, those in power often promise to make it right. But do they? Our reporters went back to the scene of major news events to see if those promises were kept. It's this sense of accountability, fearlessness and pursuit of truth which underpins all of our reporting and creates a business model whereby our readers are prepared to pay for high quality, independent journalism that provides context and aids understanding. It also means we're less reliant on traditional revenue streams like advertising.
How has the COVID-19 pandemic impacted the news business? How has it impacted the efforts and operations of The Times?
We've not been immune to the effects of the pandemic. Our ad revenue declined across both digital and print, but our last quarterly earnings report showed that, for the first time, total digital-only subscription revenue exceeded print subscription revenue. We now have more than 7 million total subscriptions, an increase of two million digital-only subscriptions over the last year. This reinforces our strategy that digital subscriptions will be absolutely pivotal to our growth, and we foresee even more opportunity among our international readers to grow this figure.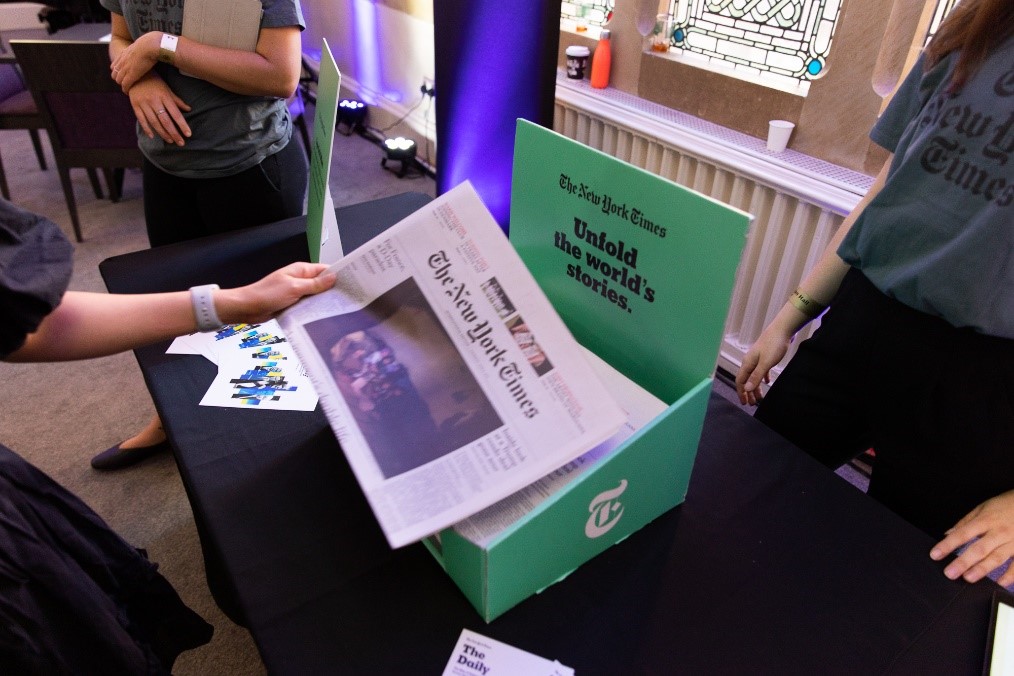 You manage a diverse staff all over the world. What are some of the most significant challenges you face in managing such a large and diverse international organization?
In two words, "cultural nuance." It is incredibly important to understand that colleagues who work in different parts of the world often come to things with a different perspective. Balancing that perspective within the overall mission of the organization is a challenge, but most of all a tremendous opportunity. As we strive to be a truly global media brand our team needs to reflect the diversity of our audiences.
You have led the international expansion of The Times since 2013. Can you tell us about a particularly proud or memorable moment?
I don't really dwell on any particular moment or moments, but remembering always that nostalgia is not a good business strategy, especially in the media business, is something I have adhered to. I am extremely proud to work for The New York Times and I feel I can best support its mission by confronting and adapting to the constant change that has shifted the media landscape over these past two decades.
*This interview is from the 2021 1Q Journal, published February 2021