Prime minister welcomes US firms relocating Asian headquarters to Korea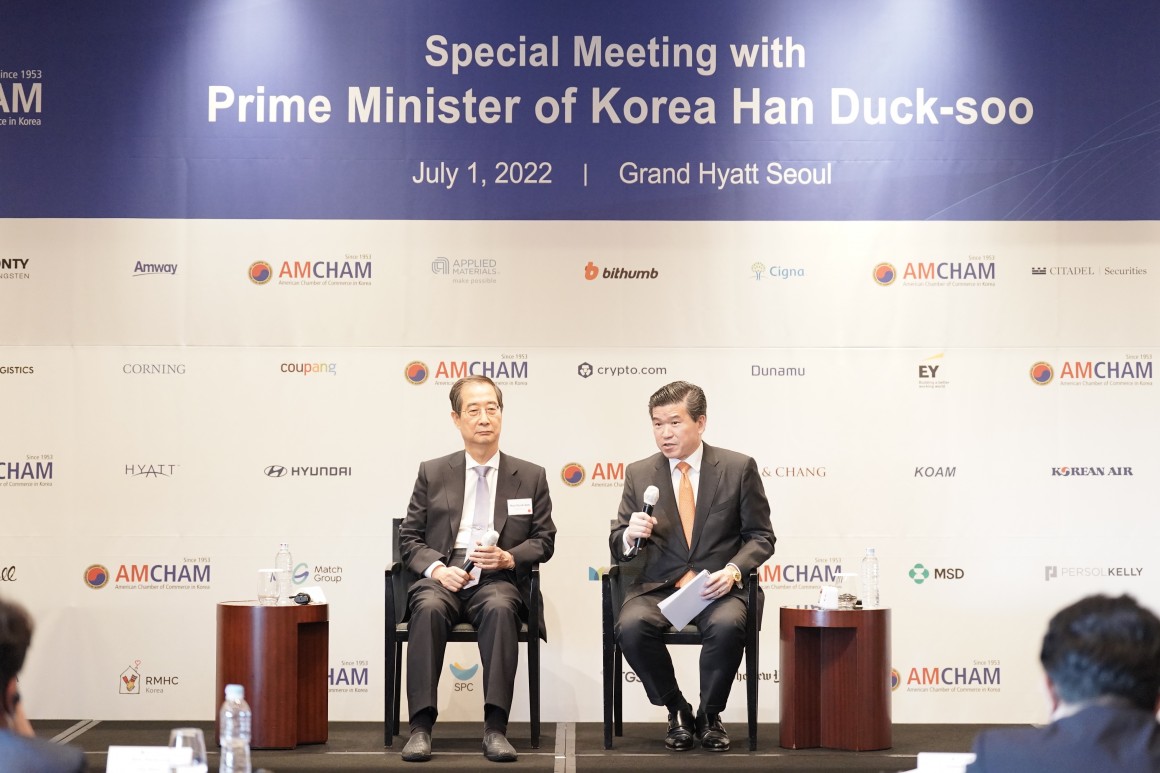 By Park Jae-hyuk, The Korea Times - The American Chamber of Commerce in Korea (AMCHAM) has won support from the Yoon Suk-yeol administration for its major goal of making Korea the regional headquarters of Asia for multinational companies.
During a special meeting hosted by AMCHAM, Friday, Prime Minister Han Duck-soo said that the government is open to resolving problems facing foreign businesspeople who seek to manage their Asian operations here in Korea.
He noted that Korea should now become a global hub and not just the hub of Northeast Asia, a goal he had pursued when he served as the prime minister during the Roh Moo-hyun administration in 2007.
"We'll look at what actually hinders the realization of the vision," he said. "You are free to contact us."
Han promised that the government will improve Korea's foreign investment environment by abolishing all kinds of regulations contradictory to international standards. He also introduced the government's efforts to educate talented students in Korea to increase the number of experts in semiconductors and high-tech industries.
He especially cited the phrase, "fellow global citizens," which was mentioned multiple times in the president's inaugural speech as proof of the administration's cosmopolitan attitude, saying that Yoon's predecessors had only mentioned "Korean diaspora" or "North Korean residents."
"We will achieve an unprecedented level of freedom and market economy in Korea," Han said.
He also commended the ongoing success of the Korea-U.S. free trade agreement (KORUS FTA), which marked its 10th anniversary this year. He highlighted that the KORUS FTA will continue to be a platform that creates mutually beneficial opportunities for both countries.
As Korea's former ambassador to the U.S., he emphasized the Korean government's commitment to strengthening a bilateral partnership with the U.S., not just in terms of economy, but also in terms of security.
AMCHAM Chairman James Kim appreciated the prime minister's leadership in driving Yoon's deregulation and economic agenda.
"AMCHAM really wants to support the Korean Government in creating the best business environment so that Korea could emerge as a regional headquarters of Asia," Kim said, promising that AMCHAM members will also support the Korean government's efforts to host the World Expo 2030 in Busan.
Source: www.koreatimes.co.kr/www/tech/2022/07/419_332011.html?da